You are cordially invited to EgN's Halloween Party on Friday, October 25th from 7 PM EST (4:00PM Neopian time) to 1:00AM EST (10:00PM Neopian Time).
We'll have attendance gifts and snacks and drinks for everyone, lots of games and TONS of prizes to give away.
The EgN room will only hold up to 25 people, so be one of the first lucky 25 to make it. hope to see you there and have a happy halloween!

Regards,
~*~EgN~*~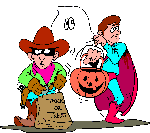 List Of Games
Website Scavenger Hunt(300NP to enter)
Halloween Petpet Paint Brush Raffle(300NP to enter)
Bobbin For EgN Apples
Halloween Hangman
Halloween Name Contest
1. Scariest Name
2. Cutest Name
3. Most Original Name
Halloween Movie Trivia
Knock Knock
Halloween Wheel Of Fortune
EgN Haunted House

And Much Much More!!

We'll also be havin Trick Or Treat, a list of participatin guild shops will be posted shortly.

*Please note, the Website Scavenger hunt is for Guildies AND Non Guildies.
First person to turn in every item for the Scavenger Hunt receives Neopia's own Halloween Paint Brush.

GOOD LUCK TO ALL!